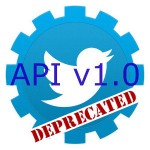 Yesterday Twitter officially announced retirement of the API v1.
Exploring developers forums shows that lots of third party services owners are unhappy with the new API limitations and Twitter's requirement for applications to authenticate all the requests. At the same time Twitter representatives report: most of the valuable services that utilizes the API, successfully migrated their stuff.
Quick overview of the most mentioned Twitter tools gives reason to doubt in this statement.