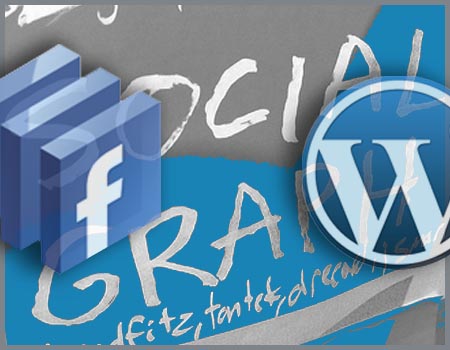 Let's finally unite WordPress blogs facilities with the social networking site Facebook. As a matter of fact not infrequently blog's users are Facebook account holders at the same time. Linking of these two online resources will definitely be very convenient as the authors of WordPress posts will be able to promote their WP posts straight to Facebook pages without delay and receive estimation or better to say an assessment of their work at once from a larger quantity of people.
And this is the moment when the Wordbook plugin comes to the rescue. By means of this plugin you will be able to post to your Facebook account directly from your blog.
First of all open http://facebook.com/ and create a Facebook account inputting necessary info.
Having entered the data, validate the safety test (before a captcha).
Press Register and click Save and Continue twice.
Choose your profile picture and click Save and Continue again.
Open your e-mail in order to acknowledge reception of a message allowing you to activate and validate your Facebook account.
Click on the link to activate your account.
Go from the main page to Account ? Privacy ? Parameter Profile Information.
Don't forget to choose Friends Only everywhere you are asked to select in order to keep some privacy of your data. But this is only an advice as you can do everything you want to, of course.
Installation of Wordbook Plugin
Thank to this plugin you are empowered to post to your Facebook account directly from your blog. Wordbook does not return to its import blog posts into Facebook. It uses the Facebook API to update your Facebook Mini-Feeds as if you had posted an update on your Facebook profile online. The updates come into sight quicker than the notification of updated RSS feeds via RSS reader Facebook that also allows you to make changes to your posts after their first publication. Besides posts from your WordPress blog are highlighted. By the way, Facebook comments won't be shown on your blog. Wordbook doesn't perceive any links to your blog which actually means that your comments keep your blog.
In order to install the Wordbook plugin unzip the archive contents first of all.
Copy the contents of the archive to your blog in the directory.. /wp-content /plugins/.
Having done this, activate the extension while going to Extensions ? Off.
Click on the Enable Wordbook plugin.
Having activated it, go to Settings ? Wordbook.
To link your blog to Facebook, you must click on facebook (with padlock).
Having been redirected to Facebook, click on the button Enter the password for.
Finally click Generate.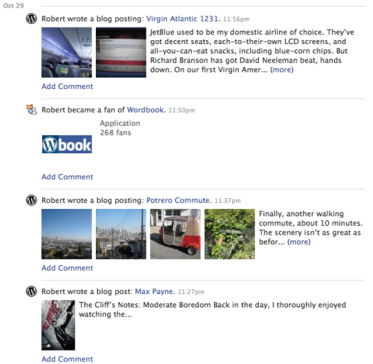 Usage of Wordbook Plugin
You will receive a unique code supposed to go into the settings Wordbook plugin.
Go back to your WordPress administration interface.
Having entered the code, click on Submit.
Having recovered your Facebook profile's image, click on Facebook agian.
Then press Allow to publish, for Wordbook, publish your news on your Facebook wall and in the newsfeed of your friends. You will be redirected to your Facebook home page.
Go back to the Wordbook plugin parameters and click on Reload.
Your plugin is ready. All the notes will be posted on your blog and every blog post will be sent to your Facebook Wall.
And finally, don't forget to make friends.