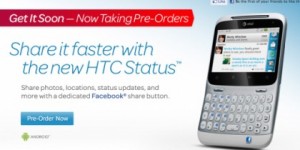 HTC starts selling the new smartphone Status on Android 2.3.3. Its main feature is a special button for operations at Facebook in the lower right part of the phone. According to the operator AT & T, which will promote the new product, HTC Status is the first phone in the world with a special Facebook button. It is designed for teenagers and young adults who like Facebook and use it very often from their mobile phones.
The button is multifunctional and can perform different operations depending on the current activity. For example, you can use it to post a message on your own wall or wall of a friend. You can take a photo or video and then send it in to your account on Facebook. Your pictures can be marked with labels and tags. You can register in public locations using Facebook Places service. The button also allows you to share music files, which the user is listening at the moment.
The phone has advanced integration with Facebook beside special button. For example, a phone can visually select content that can be sent to Facebook. This may be a site, picture or a song.
Speaking about other features, Status has a 2.6-inch screen resolution of 480 ? 320, 5-megapixel camera with flash and autofocus, QWERTY-keyboard. AT & T will sell it for $ 49.99 with a two-year contract.