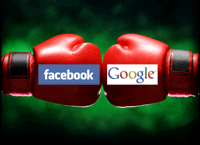 Recently the social network Facebook published a renew list of advertisement providers that are allowed to be used by the account holders of Facebook. Google search engine is not on this list. That means that Google Adsense, for example, can't be used in order to generate revenue within a Facebook application.

Google Adsense used to be of great importance in revenue for developers in the first place. So there is no wonder that the news was not welcomed with open arms among them. The same effect it had on common consumers who began to have troubles in managing their identities.
Facebook provided the following statement:
"This is the current list of ad providers that have signed our terms that govern ad quality and data use, although more are being added every day. We currently have more than sixty of the largest and smallest providers on the list. This is a public and open agreement and new providers can sign at any time."
Nevertheless it looks like Facebook leaves for Google an opportunity to be added to the preferred advertiser list that follows from its asserting:
"We are continuing to work with various ad providers and will add them to the list as they sign the terms."
Anyway Google is still not at this list. And this fact forces developers to use original Facebook networks. Otherwise they are threatened to be blocked from the platform. The reality of this measure of punishment wasn't checked yet as none of the users was shut down for running Google ads; at any rate none of such cases was published or discussed yet.
In order to be returned to the platform Google has to sign off on the terms that you may see after the clicking on this link. Seemingly Google does not want to do it as it isn't still included into the list.