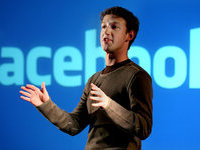 Facebook founder and CEO Mark Zuckerberg is in the top of the list of 40 best young businessmen in the world by the Fortune magazine. The "Fortune 40 under 40″ rating includes only the businessmen younger than 40 years.
In 2009 and 2010, Zuckerberg was second on the list. In 2009 the magazine placed Google co-founders Larry Page and Sergey Brin on top, a 25-year-old head of Facebook became the youngest member of the rating.
The leader of last year was Marc Andreessen, founder of Netscape and other companies. In this year, due to age restrictions, he did not get in to rating.
In the top-400 richest people in the U.S. Google founders are also behind the head of Facebook. Mark Zuckerberg on the Forbes list ranks 14th, and Larry Page, Sergey Brin shares 15th.