There was a new site for Deals created by Facebook. This novelty enables users to find coming Deals and gives entrepreneurs advices how to offer them. There a list and Bing map of local promotions presented. The best performances of introduction of goods into the market are explained by means of manual videos and Deals Guide for Businesses .pdf which can be downloaded.
The site aims to simplify the business on-boarding process that leads to increase of Deals popularity for businesses to incentivize foot traffic.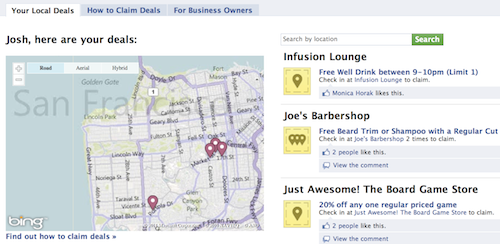 Initially Deals were started up by Facebook with only a few brands in November. It was accessible only in the U.S. for iPhone and touch.facebook.com users. In spite of different methods of customers luring it was not used a lot due to shortage of comprehension among both business and users.
Facebook extended boundaries of its location services to Europe, Japan, Canada, and Australia, added access for Android devices, started up Deals in Europe. It increased prospective user base and keeps in touch with its pioneer businesses clients placing its promotion action on a broad footing.
Deals Locator
Facebook.com/deals begins with a survey video and a Facepile of friends who've claimed Deals. The viewer sees Your Local Deals, a dynamic Bing map where coming Deals are shown. They base on a user's IP address. The business' addresses, links to directions and the present Deal become visible after mousing over a Places icon.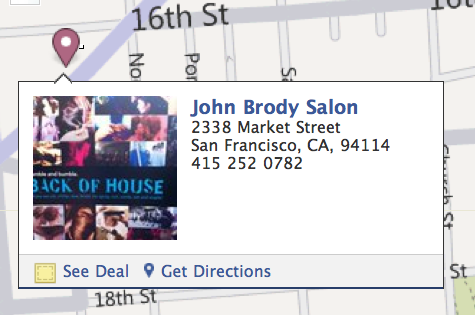 There is a list with current promotions offered including their associated Likes and comments on the right side. In is possible to see Deals in different cities using a search bar.
There was not a grouped list with Deals before what complicated the search. Users had an opportunity to follow businesses offered Deals in their neighborhood only and could miss some within a mile of them. But thanks to Deals locator promotions from everywhere are possible to be seen and this will increase awareness that leads to offering of larger quantity of Deals consequently.
Educating User and Business Owners
The How to Claim Deals shows Deals offered by businesses and the way of buying them in. Users are requested to look for yellow stickers on storefronts which help the viewer to fellow the Deal redemption. There will be four types of Deals presented: Individual, Friend, Loyalty, and Charity.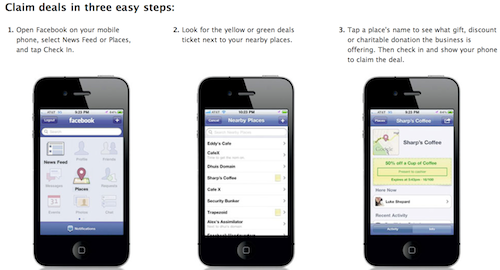 There are also links to Help Center FAQ about Deals, panel citing the devices and countries with access there. Here are Android devices to be mentioned as well.
A video concerning "How Deals Work" is in the For Business Owners tab. There is an educational aid for admins called "Creating a Deal" there. The site also links to a downloadable .pdf "Deals Guide for Businesses" hosted by Box.net. The .pdf and videos describe three main advantages of using Deals:
Acquire customers
Spread the word
Build customer loyalty

The differences between the above mentioned four Deal types, creation procedure and best practices are included in the guide. A few of the tips are:
Offering at least a 10% to 50% discount
Providing clear and succinct Deal summaries and redemption instruction copy
Monitoring campaign progress to avoid Deal fatigue and opportunism
Training employees to redeem Deals
Ensuring sufficient supply of offered gifts and staff to administer them
Setting up policies for handing issues with customers
Working with Facebook's account managers to set up Deals across hundreds of locations if necessary
Buying Facebook ads to promote Deals
Facebook determines these practical procedures with the aim to lessen the probability of poor experience of businesses with the Deals. This is an important matter behind the otherwise free feature. Facebook started out Sponsored Stories ad unit lately that enables businesses to pay Facebook with the purpose of higher spreading of their Deals. The intent to buy ads will increase if Facebook is possible to display the simplicity and profitability of Deals.
Deals are named "A new way to connect with customers" by Facebook. Deals has better prospects in comparison with other location services which offer local promotions. Deals is self-serve, free for admins and inspires users to bring their friends to a business. Hasty expansion of Deals is also supported by reason of availability of good educational and discovery resources on Facebook.com/deals.