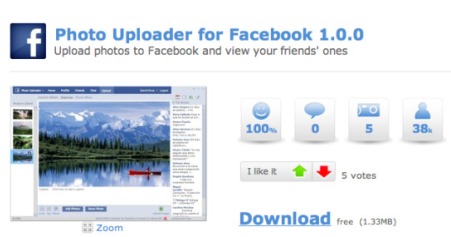 Facebook profiles contain info about its author and his lifestyle that he places by himself to let his friends know how he is going. People often allocate their photos there, especially the most favorite ones. At the present time there are a lot of ways to do it.
Below you can find a list of applications created by Facebook developers and other architects. Their aim is to simplify and accelerate the uploading process of images. The way of arrangement of the photos can be chosen by the account holders using other or supporting tools.
Facebook Uploader
This Facebook application is widely used by users due to its manageability and reliability. Click on the photo icon on the left side of your profile main page and you will see who of your friends has already appended the picture. While casting a glance on the right side of the home page you'll realize that this app enables you to share not only photos but also videos with your friends. It allows adding photos from users' PCs to their Facebook profile as well.
Flickr2Facebook
Using this app you receive an opportunity to combine two famous networks together, on the one hand a widely favored online photos resource, on the other famous social net Facebook. Observe directions given to help you and it will present you no difficulties to upload your Flick photos directly to your FB account.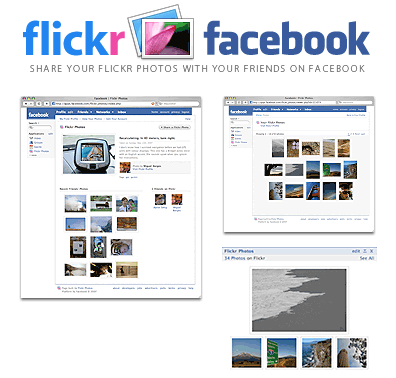 Photobucket
Photobucket is a well known commonly used photo hosting resource. Make Facebook and this web's popular site connected and you will get the chance to upload your Photobucket photos and images directly to your FB account page. It will be a neat novelty in comparison with a standard Facebook photo uploader tool.
Photo Uploader for Facebook 1.0.0
Set up on your desktop this application and you will be able to upload photos to your Facebook profile right from the desktop. This is a tool for true Windows OS followers. It prevents wasting your time on visiting different online website for uploading photos from your PC to Facebook.
LiveUpload to Facebook
This photo uploader tool seems to be very useful for adding of images to Facebook. After implementing of this app users of Windows Live gallery will get an opportunity to add all of the chosen photos from Windows Live Gallery to their personal page on social network Facebook.