On April 30th 2015 Facebook deprecated the Search API for public posts by keywords, which provided poor results and was unstable. New API allows to monitor exact Facebook pages feeds to get more accurate social tracking. New version of the Facebook monitoring service by Social Searcher will collect all updates, mentions and comments on your own Facebook page or your competitor's one.
Another big news for Social Searcher users: we've integrated 7 new popular networks for you to search. Share this great update of the leading free social media search solution with your friends and keep on reading for more details.
Facebook update
Get started with the new Facebook search by providing exact Facebook page URL in the Advanced options: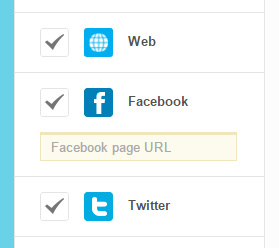 Or directly from the search results: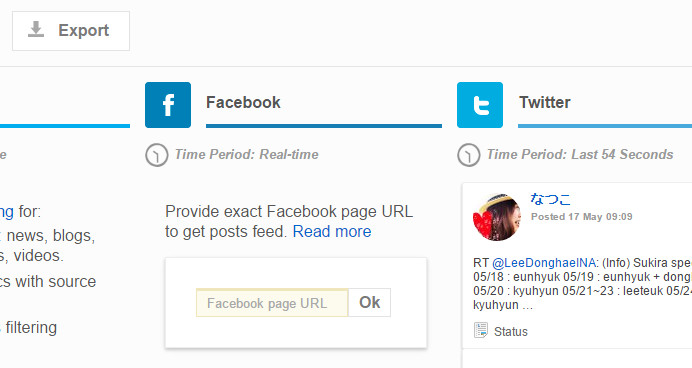 In order to enable new Facebook search processing for the existing saved searches with email alerts or monitoring, please, follow steps described above and don't forget to Save search options.
Networks
Here is the current list of the supported networks:
- All Web (premium monitoring)
- Facebook
- Twitter
- Google+
- Youtube
- Instagram
- Tumblr
- Reddit
- Flickr
- Dailymotion
- Vimeo
Search operators
– Phrase search (""). By putting double quotes around a set of words, you are telling Social Searcher to consider the exact words in that exact order without any change.
– Terms you want to exclude (-). Attaching a minus sign immediately before a word indicates that you do not want posts that contain this word to appear in your results.
– The OR operator. If you want to specifically allow either one of several words, you can use the OR operator (note that you have to type 'OR' in ALL CAPS).
This syntax is correctly mapped to the Advanced options keywords, exact keywords and minus keywords lists. There is no need to change existing saved searches.
Easy navigation
Interface of the Social Searcher became more user friendly, check up a new navigation bar at the bottom of the screen for easy scrolling between networks columns.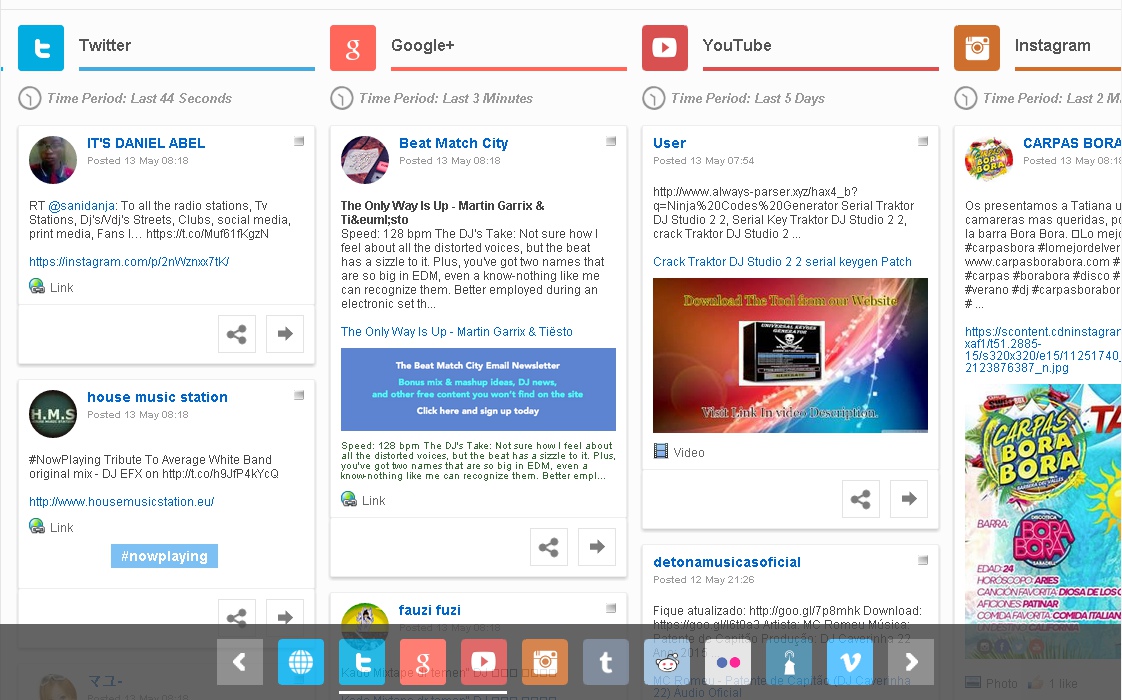 Collapse saved searches area for even more space.
Post layout
New post design with user defined tags information.
Premium plans: get more for the same price.
Now premium users have access to the extended limits for daily real-time searches:
- FREE 100 Real-time Searches / Day
- Basic 200 Real-time Searches / Day
- Standard 400 Real-time Searches / Day
- Professional 800 Real-time Searches / Day
Limit usage is calculated by the number of requests per network. Feel free to use Advanced options to exclude unneed networks from the search to reduce the daily limit usage.
Looking forward to hear your feedback in the comments below or directly info[at]social-searcher.com