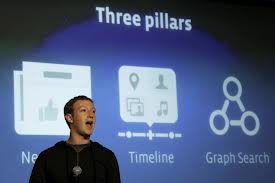 Facebook Graph Search is not yet released for everyone, however, the social network already published some examples of the new social search best practices. Facebook believes that people don't use it actively and don't know its full potential.
Therefore, in a recent blog post the company highlighted a few examples of searches: videos, old photos of friends, my engaged friends, images from popular news sources.
There are also examples related to the location: hotels nearby the sightseeings, ski resorts visited by your friends, your places, applications and videos that your friends like, recommendations from the people with the similar interests.
Experts don't have the same opinion about the new search, most of these searches don't seem to be used regularly. Perhaps, you can accidentally see a couple of recommendations, but you won't spend the same time for graph search as for the news or photos.
In September 2011, Facebook launched Timeline. It's beautiful, but how often do you go through your timeline or your friend's one? Facebook spent huge resources for this, but did it make sense? After all, when most of us open another user's profile, we see brief information about him, his latest pictures and recent posts. All this worked fine in the old version of the profile.
Instead, the social network could enhance the "Advanced search" by changing its design and enabling Facebook Search for friends in a particular city, or other specific parameters. That's what people want to search in the social network.