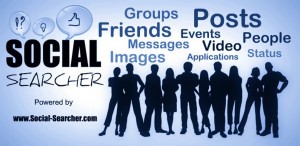 Today our site www.social-searcher.com released Android Application "Social Searcher", which allows to Search on Facebook Without Logging in! Make your keyword search around Facebook and find out what people are talking about now.
Social Searcher is Your Compass in the Facebook ocean.
It's Simple and Very Useful Android Application, which allows to search for:
People
Posts
Pages
Groups
Events
Features:
Open Links from Search Results in your Android Web Browser
Sort Search Results by Date/Time
Sort Search Results by Number of Likes
Filter Search Results by Country
Meanwhile, try out web version of the Facebook Search for posts and people profiles without logging in.