Domestic partnerships and civil unions are included by Facebook into the list of options in the relationship status. However, this function did not become available everywhere but only in the U.S., Canada, U.K., Australia and France.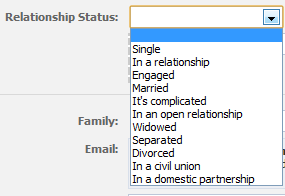 The appearance of these two new options is connected with action of working in the struggle for their rights together with the Gay and Lesbian Alliance against Defamation. The freshly mentioned alliance put out a press release in order to solemnize the change. Below you will find a quotation of Jarrett Barrios, the organization's President, who said in a prepared statement:
Today, Facebook sent a clear message in support of gay and lesbian couples to users across the globe. By acknowledging the relationships of countless loving and committed same-sex couples in the U.S. and abroad, Facebook has set a new standard of inclusion for social media. As public support for marriage equality continues to grow, we will continue to work for the day when all couples have the opportunity to marry and have their relationship recognized by their community, both online and off.
However it is worth to underline that the relationship statuses sometimes do not help to understand the actual state of the person in relations. For instance, such phrases as "it's complicated" do not show the type of complication at all. The next imperfection that causes complaints on the part of some Facebook users is the absence of categories step-children and step-siblings among the relationship statuses.
In this manner, there are a lot of things that need improvement on the social network.