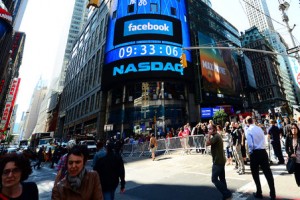 NASDAQ is ready to pay out compensation to the investors affected by the issues on the Stock Exchange while Facebook's initial public offering.
NASDAQ mentioned $ 13.4 million compensation amout, but this is clearly not enough: investors estimate their losses from the glitches on the Stock Exchange at about $ 120 million. Total loss is even higher: Facebook's capitalization fell down more than $ 50 billion after the IPO.
Loss of the exchange brokers, which took part in the Facebook's IPO, reached $ 120 million. For example, Knight Capital estimates it's losses at about $ 35 million, almost the same losses for Citadel Securities, while Citigroup and UBS could have lost up to $ 20 million each.
However, NASDAQ will not be able to pay out to all of them: Stock Exchange Compensation Fund is only $ 13.4 million.
Stock Exchange is now considering options for compensation with the U.S. Securities and Exchange Commission (SEC), which analyzed the errors while Facebook's IPO. NASDAQ plans to announce the results today.
Facebook's initial public offering took place on May 18. The company offered 421.2 million shares at $ 38 each. As a result, the total amount was $ 16 billion. Debut session opened with the 11% growth – up to $ 42.05 per share, but at the end of the day the FB stock quote was $ 38.37 – just 1% above the initial public offering price.