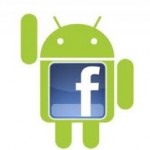 Facebook application for Android was updated, now user interface looks similar to the iOS mobile app. Announced version of the application should be much faster.
According to the Facebook blog, in new Android application it will be easier to navigate in album, edit your account, send comments and messages. Also, the overall functionality of the application should become more ergonomic.
Now all notifications will be located at the top of the screen. News, games, groups, and applications will be available from the main menu (in new app version it will be located on the left).
At the moment a new version of the Facebook Android app is not available in the Android Market yet, but it's expected in the nearest future.