The quantity of visible tab applications on Facebook was considerably enlarged a short time ago. These tabs are placed above the fold the navigation menu of Facebook Pages.
The Facebook account holders receive an opportunity to access more tabs for promotions, email signups, games, etc. Though some Pages will be claimed to affix multiple apps, the tabs won't be required to be reordered.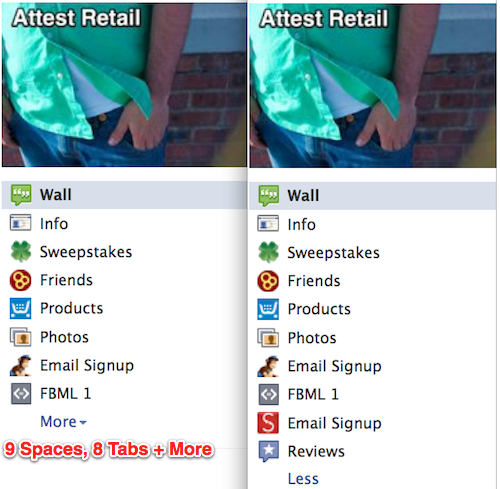 The renovated view of Facebook Pages was introduced in the middle of the past month. The tab apps were shifted from the top of the Page's wall with an aclinal bar to an upright navigation menu under the photo of the account holder.
Thanks to the new design the tab apps became not as conspicuous as they used to be before. But on the other side this redesign provided additional place for longer titles and more a larger number of tabs. In spite of this possibility only six apps are allowed above the fold now, the same quantity as before.
Nine extra-spots are accessible now above the fold. Their availability was caused by the rearrangement of the tab apps that resulted in the presence of additional vertical space. Users are able to see the first eight installed apps, the rest becomes visible after pressing of the "More" button.
The tabs can be moved everywhere which takes place after clicking on the "Edit" button that follows pressing of "More" button. The same options give the opportunity to delete unnecessary tabs; moreover the removal can be conducted through the full "Edit Page" admin interface.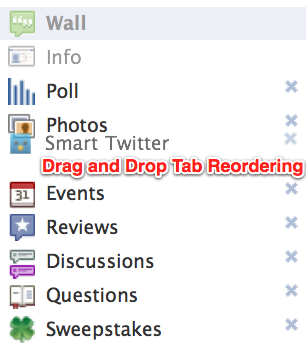 If the Page acquires fewer tabs than spaces above the fold, than the "More" button is absent, therefore the option to reorder tabs is also not present. The page's admin has to add enough tabs first of all, that causes the appearance of the "more" button and consequently the tabs may be reordered and removed ad lib.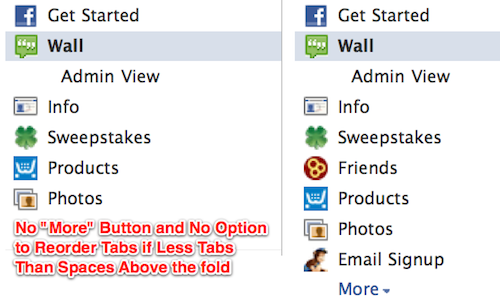 The design of Facebook page and admin interface is gradually being developed. That means that the present imperfection with reordering process must be eliminated relatively soon.