The number of naked and funny videos spread over the social networking site has considerably increased in a short span of time. The video is not worth to be advised watching as is puts malware on your computer and spam on the walls of all of your friends.




Having clicked on the video link you'll see a video window just for a second and then a list with six different suggestions appears. Theses scrams try to collect info while showing a large number of popups.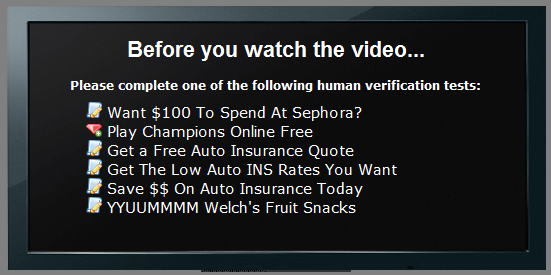 The apps similar to this intend to earn commissions for the creators of the scamware. That means that you will only help the scammer if you input there your personal data.
Please, send a report to abuse at facebook dot com as soon as you notice something that is similar to the picture above. Do not forget to inform your friends who could probably be affected by the virus. After doing this look through all of your privacy settings and get rid of all the applications that are not used by you now.