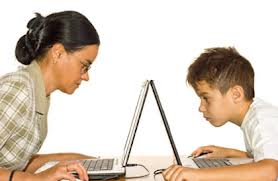 The life of parents used to be much easier before the social networks appeared. The virtual world has its own rules that should be explained by parents to the children. Moreover – and this is equally important – parents themselves should follow a set of rules on how to behave in social networks.
So, what should parents avoid when it comes to the Internet in general and social networks in particular?
1. Prohibition of using Facebook for children.
It is possible that you, as a parent, feel that Facebook – it's bad. It is likely that your children are among the 0.3 percent of all children who unquestioningly obey their parents. But in that case, if they still want to visit a social network, you are unlikely able to control this: additionally to a home computer, there are smart phones, computers of friends, shared computers at school and so on. Therefore, the best solution for this problem is not to totally taboo your child from using Facebook, but to force doing it from home. It's much easier to keep track in this case.
2. Do not confuse your children in public.
If your child is registered on Facebook, please, stop annoying him with your constant attention. Of course, when your son or daughter is young (10-13 years), it is quite possible that you're the best friends in a social network: play games together, share photos and more. But as soon as your child begins to grow up, your comments about his/her status may be unwanted, because teenagers generally use Facebook for hanging out with friends. Therefore, you are not recommended to "Like" or comment something on your teenage child's profile page, just monitor it from time to time.
3. Do not add friends of your children to your friends list.
Of course, you want to know more about your child's activity on Facebook. But "friending" his friends is a very bad idea. On the other hand, if they "knock" to you and want to be friends on Facebook – never deny them. However, don't forget the previous point and stay away from active posting on their walls.
4. Do not punish your children on the Facebook pages.
It is a really bad idea. Actually, you can't know exactly what are your children talking about online, so blaming them for the words out of the context would be a very foolish decision. What you should do in this situation is to talk to your child in real life and discuss all the possible problems. May be some poetry with bad words published on his wall, is just a part from the well known rap song.
5. Forget about the idea that «Facebook – is the first step to illegal content on the Internet".
Facebook tries to filter out offensive and adult content, so, it can be a good starting point for your children on the way to the Grand internet and a great opportunity to teach them about behavior online.