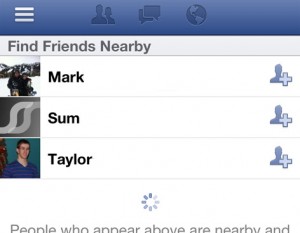 Facebook added a new feature to the mobile functionality, which helps users to find friends and other people by location.
Its original name is "Friendshake", but the abbreviation specified in the URL (http://fb.com/ffn) means "find friends nearby".
In order to use this feature you've got to be logged into Facebook. Other people who are also logged into Facebook and on the same URL as you, can be visible in the list.
This feature is not officially announced by the social network, but already available on the mobile version of the Facebook as well as on the iOS and Android applications.
Facebook bought a mobile application Glancee two months ago. This app helps users to find people with similar interests nearby, it seems that the social network added Glancee technology to the Facebook platform.
One of the Facebook software developers Ryan Patterson commented on the TechCrunch post:
"I built Find Friends Nearby with another engineer for a hackathon project. While it was originally called 'Friendshake', we settled on 'Find Friends Nearby' for launch (the URL was a little bit of a homage to the previous iteration).
For me, the ideal use case for this product is the one where when you're out with a group of people whom you've recently met and want to stay in contact with. Facebook Search for people profiles might be effective, or sharing your vanity addresses or business cards, but this tool provides a really easy way to exchange contact information with multiple people with minimal friction."
UPDATE: Facebook disabled this feature:
"This wasn't a formal release – this was something that a few engineers were testing. With all tests, some get released as full products, others don't. Nothing more to say on this for now – we'll communicate to everyone when there is something to say."