Recently ExactTarget and CoTweet carried out an investigation named "The Social Breakup." They researched the reasons that urge people to click on "unlike" button on Facebook brands sites. Every seventh out of ten of the social network accountholders are convinced that they've begun tending to choose more carefully when it comes to voicing their attitude regarding liking or unliking brands on the site. Almost half of Facebook users, rough estimated, removed themselves from a page's admirer by clicking "unlike" button.

According to the study over 49 percent of social network's membership were not aware of the fact that clicking on "like" button causes a chain of promotional communications from the brand. Later facing the steady flow of advertisements they decide to stop it and click "unlike". In such a manner a lot of the dislikers turn out to be fair weather friends at a later stage. Below is a list with reasons that force people to press unlike button at the very end: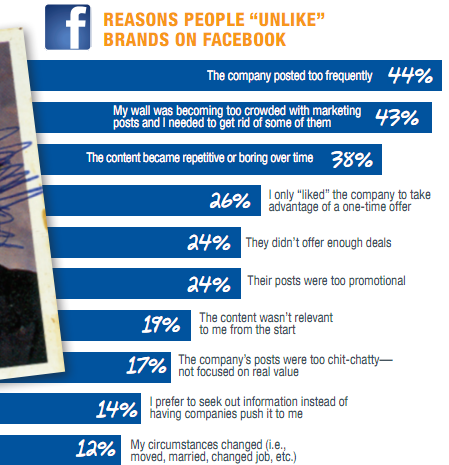 Nevertheless, to click on unlike is not the only way to get rid of the unwanted info. However 43 percent prefer exactly this method. They go to brand's page and press "unlike". 19 percent just ignore news feed posts from brands when they lose interest in a page's content. And 43 percent click on the x next to a brand's post to remove it from the news feed in this case.
ExactTarget and CoTweet give advices how not to lose site's fans. The recommendation seems to quite obvious, you should keep interest of your fans by making the pages fresh and actual. Limiting the number of postings would not hurt either.
Thus, the search of ExactTarget and CoTweet shows us statistics on how inconstant Facebook previous brand sites' friends can become. However the absence of mentioning of the size of the survey sample does not increase its appeal and seems to be a big omission.