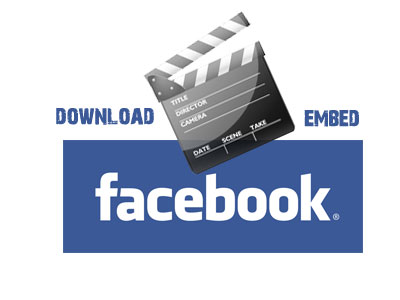 There are different Facebook video applications described in the present article. Although it may seem that only porn distributors are interested in the development of this sphere of the social networking site as the number of video clips showing bedroom scenes is quite large and proves their wide popularity among the Facebook users. Anyway the videotapes can be on various topics and the apps introduced below were mostly created for entertainment purposes:
Video
This Facebook application is the most popular among video apps. Over 4.5 million Facebook account holders have placed it to their profile pages. Hence it follows that the quantity of video clips is enormous. Nevertheless, users are enabled to upload videos weighting less than 300 MB only and with the length no more than 15 minutes. By the way this short duration is however longer than an average clip on YouTube.
Facebook Video app isn't a self-maintained platform in spite of users' expectations based on the present similar service on MySpace. Anyway the most significant app's functions are quite simple because this built-in Facebook video service is foremost a video version of photo utility based network.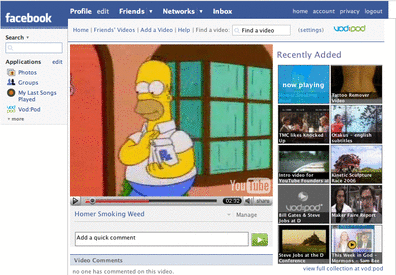 Vodpod: Videos
Having become an account holder on Vod:Pod you are enabled to add your Vod:Pod playlist with favorite videos and enjoy them in the same way as at any other non-Facebook blog platform. By the way, all of your friends receive an opportunity to watch the latest videos uploaded by you on Vod:Pod. In addition to that you are provided with a cool option of Vod:Pod bookmarklet that allows to identify videos and clips anywhere and to display the recent updates via your "Pod". Besides, the video that manages to reach the top on the list with five videos chosen by you as your most favourite ones will be available for other people to be shown. The rest will appear only on your private account.
SplashCast
This Facebook app allows users creating and showing of their own video channels for their Facebook friends. You are enabled to view RSS feeds and flash embed videos and pull them out from the video player side. Moreover, users receive a "View Bigger" option at disposal. This feature allows viewing of videos on rBGH.
Mesmo.TV
Thanks to this app you'll receive a chance to look for videos among the clips uploaded by other users. This statement was made by Davin T.Miyoshi, CEO of Mesmo.TV. The new service provides you the possibility for a better and more effective method of browsing and rating of video clips after their watching.