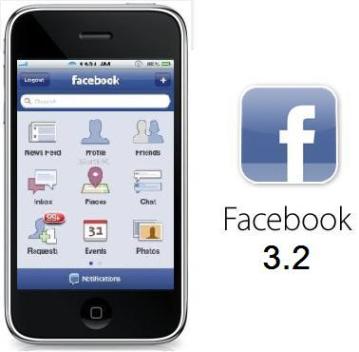 Recently a new version of the famous iPhone Facebook application was introduced by the inventive iPhone developers who clearly realize that the large majority of their client contains of true users of the social networking site Facebook. The improved 3.2 version is available on iTunes, the official Apple Store website.
Below you'll find the favourable changes and improvements of the renewed version in comparison with the old one.
The presented features considerably simplify browsing the preferred social network thanks to iPhone smartphone:
1) Still number One
The first thing to keep your eye out for is the appearance of the app. The flawless design, consummate interface and pleasant navigation serve to delight you and they really perform their work as it expected to be. The latest iPhone Facebook app 3.2 shows a perfect compatibility with other Apple devices including iPad and iPod Touch. New Facebook features will be provided to you with the app, e. g. integration and support of Facebook Places are among them. You surely won't be disappointed with them.
2) Now Supports Facebook Places
The amalgamation of the renewed iPhone Facebook app with the latest and most popular Facebook feature called Places can rightly be indicated as the most important alteration. Thanks to this great tool all the Facebook account holders are empowered to inform their Facebook friends about their present place of location. Despite the apparent perfection of the tool this hit feature of Facebook is expected to be improved however. IPhone FB app is also looking for forthcoming updates of this favored feature.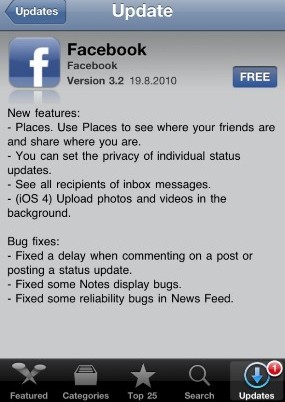 3) New Utility Feature for iOS 4.0 phones
TThanks to utility feature for iOS 4.0 phones users receive the chance not to waste their time waiting for uploading photos and videos but to browse their favourite websites meanwhile for example. The previous problems e.g. bugs dealing with News Feed reliability were successfully removed and nothing impede a proper work at the present time.
4) More features for users
The number of features provided to the users is gradually enlarging. Here is a list containing some of the most important:
The names of the addresses posting their letters kept in the Inbox become visible.
The personal status updates are provided with Privacy Settings.
After pulling of the app button to the top of the screen on iPhones, iPads and iPod Touches users can refresh their Facebook pages.
The speed of communication between Facebook friends is also put on.