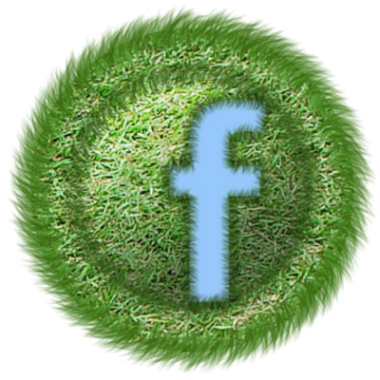 Facebook was created not only as an online social community where people communicate, give their opinions, discuss pressing issues but also as a method for humanity to be entertained. This fact accounts for appearance of funny Facebook pages that help people to relax, in the first instance after a hard working day.
Bellow you will find a list of some amusing Facebook fan pages which enjoy wide popularity:
Grass Fan Page
The name of this fan page seems to be connected with drugs addicts but in fact it does not have anything to do with narcomania. What is at issue is real grass that grows near your house. Usually people do not pay attention to it and remember about its existence only when it's time to cut it. But the members of this Facebook fan page are sure that grass is a living organism and we have to respect it, therefore allow it to grow everywhere it wants. It sounds absurd, nevertheless over 20 000 users joined this group and take an active part in discussion of grass's rights. Join the group and cheep up feeling the power of grass.
I Hate It When My Home Is Raided By Homicidal Lawn Gnomes at 3 AM
Do you like garden gnomes? Members of this Facebook fan page will answer "No!" in chorus. And the number of these people is not so few. About 5 000 joined the group and all of them are fully confident that garden gnomes are extremely dangerous especially at 3 AM. Visit their page and find out about the reasons for such strange behaviour.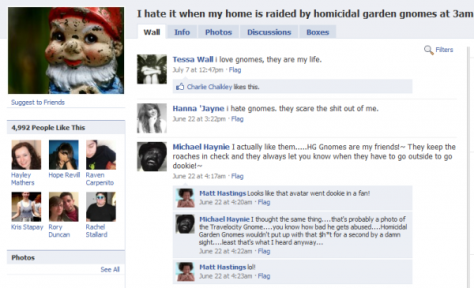 Zombies Fans
Do you like watching movies about zombies? The members of this group not only do, they move along: their purpose is to become zombies and to eat people's brain. Or they just play a joke. Anyway, you will find plenty of jests on their page. Visit it and you won't be disappointed.
What's your pimp name?
You must admit that the name of this group is even more then weird. And that what they do there seems to be odd, too. But isn't it cheerfully? It is, even more than you suppose. Join it and you will learn who rich the imagination of some people can be.
What kind of sandal are you?
Have you ever thought that all of us belong to one of the types of sandals? The participants of this strange group are certain that our spirit and sandals are in great connection. If you want to learn more about this funny nonsense, just join the group and continue their merry chat.