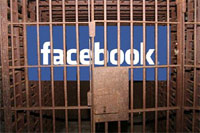 Convicts use computers and cell phones and consequently have access to Facebook which opening is not actually allowed in prison. The authorities find out new ways to prevent Facebook access by inmates. South Carolina offered to fine those who were caught surfing the social net. The punishment includes $500 and an extra month in prison.

Representative Wendell Gilliard from Charleston presented a new bill that could make it illegal for an inmate to log on to any social media site. Reuters reported that the bill has 12 co-sponsors nowadays.
The idea to create the bill dawned on Gilliard after he heard some stories when victims came across their lovers' killers over the social network. He has reliance in a fast discussion of the bill in the government and expects its soon legislation. Reuters quoted Gilliard:
It presents problems with the innocent people on the outside. The inmates have been using social networking to put coded messages out about where money is to be found, who turned them in, wanting revenge. It's putting innocent people's lives at stake. The goal of the bill is to stop the inside from coming out. Victims have rights, too
At the moment Facebook allows everybody to use the site including prisoners. Nevertheless, sharing your password with someone on the outside to access your account for you and update your page doesn't correspond with social net's rules. That concerns all the users, not just inmates.
Moreover, warders prohibit using cell phones and computers in jail at the present time, which is supposed to make it impossible for inmates to update from behind bars. However inmates frequently receive communication vehicle illegally. Cell phones are often thrown over a prison fence. And unfortunately, the prisons lack the jamming technology that would block cellular signals.