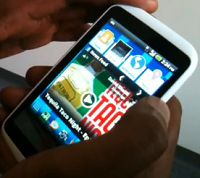 INQ Cloud Touch captured by TechCrunch, also known as Facebook phone was recently presented by INQ Channel Manager Andrew Bennet. The gear bears a resemblance with a white iPhone and has a bound with social network Facebook.
The icons on its screen show different Facebook functions open. Four of its buttons on the home screen execute services of the social network:
People shows status of user's friends and other actions on the site.
Events makes you acquaint with all the invitations sent to you on the site for present and future activities — NB: Android calendar has a separate icon that leads to the Google application.
Notifications you to newsfeed items concerning the things you've looked through.
Places links you to the location of your friends
As a matter of fact one feature on INQ Cloud Touch is not connected with Facebook. Native Android music player was replaced there by Spotify that was made to launch the gizmo in Europe first this May. It makes curious whether the U.S. version will have a different music application or not.
The most catching thing about this Facebook phone is its price that is promised to be about $50 with a cellular contract and $250 without it. It is considerably less than the cost of current iPhones.